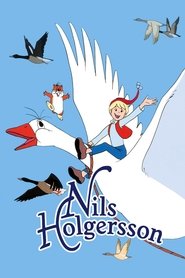 The Wonderful Adventures of Nils
The Wonderful Adventures of Nils is an anime adaptation of the novel The Wonderful Adventures of Nils by the Swedish author Selma Lagerlöf. The 52 episode series ran on the Japanese network NHK from January 1980 to March 1981. The series was the very first production by Studio Pierrot. The anime was mostly fairly true to the original, apart from the appearance of Nils' pet hamster, and the greater role allowed to the fox Smirre. The music was written by Czech composer Karel Svoboda.
The anime was also broadcast in Canada, France, Germany, Sweden, Finland, Iceland Belgium, Greece, Bulgaria, The Netherlands, Poland, Portugal, Romania, in the Arab World, Spain, Slovenia, Slovakia, Hungary, Israel, Turkey, Italy, Hong Kong, Mainland China, South Africa, and Albania, but in some countries it was cut to allow for commercials. In Germany, the animated series episodes were also combined into one full feature animated movie in 1981; the same release has also been dubbed and released in Estonia on DVD and VHS.
TV Status: Ended
Duration: 30 min
Release: 1980